Whether you're new to the wonderful world of plant parenthood or a seasoned expert, there's always something more you can learn about the seemingly never-ending plant varieties out there. We've gathered some of our new favorite books for plant lovers in this (non-exhaustive) list. You'll find how-to books, plant-related coffee table books, and a few books that just pay homage to the joy and beauty that plants bring to our lives.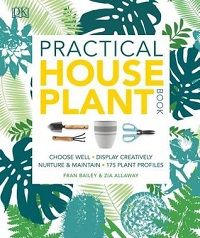 Practical Houseplant Book by Zia Allaway And Fran Bailey
This is a great, practical how-to book for starting and maintaining your indoor plant menagerie. With nearly 200 plant profiles and 12 inspiring projects, this book is an incredibly useful one to own to help with each any houseplant you might want to cultivate. Hands down, one of the best books for plant lovers.
Little Book of House Plants and Other Greenery by Emma Sibley
This cute little book is perfect for those just discovering their love of plants. It details 60 of the most popular houseplants and gives a breakdown of the basics for caring for each one. Everything from how much water and light to give the plant to propagating new plants, what type of soil is best, and tips for potting.
American Grown by Michelle Obama
This book is the story of the White House garden started and cultivated by Michelle Obama. While a lot of the book deals with her own personal fears around being a novice gardener (which many of us can relate to) there are also quite a few practical tips and tricks for those just getting into gardening who want to learn more.
Stylish Succulents: Japanese Inspired Container Gardens for Small Spaces by Yoshinobu Kondo and Tomomi Kondo
This book is great if you've found yourself with a succulent obsession and need to find new ways to display them around your room. It gives you tips and tricks on how to plant them in various containers and use them to add color to your walls without having to paint. One of the best books for plant lovers that also double as interior decorators.
Living With Plants: A Guide to Indoor Gardening by Sophie Lee
This book is part plant care, part DIY interior decorating, and part philosophy. It's about way more than just what each plant needs, and digs deeper into caring for plants as a way of being. There are over 30 projects that walk you through how to transform your home and office space using plants, how to improve air quality and general atmosphere, and also covers the basics of plant care.
Wonder Plants by Irene Schampaert 
This book features 20 images of interiors transformed by creative plant-lovers from around the world. More of an homage to the love of plants and how they can create a completely different environment in a space than a practical how-to book, though there are some basic tips scattered throughout so you can try to recreate some of the magic on display. This is the best book for plant lovers that really just want some eye candy and visual inspiration.
Urban Botanics: An Indoor Plant Guide for Modern Gardeners by Emma Sibley and Maaike Koster
This delightful book has detailed information about a ton of different plant varieties. Everything from succulents and cacti to ferns and flowering foliage. Each description comes with a beautifully illustrated version of the plant. It's a great book to help you understand your plants better so that you can be the best plant parent possible.
RHS Plants From Pips by Holly Farrell
This very useful book shows you how to grow fruits and vegetables right at home using the pips that you would otherwise just throw away. Wish you could have avocados and mangos on hand all the time? This book will show you how to use colorful illustrations and step-by-step instructions.
Wild at Home: How to Style and Care for Beautiful Plants by Hilton Carter
In this book, Carter walks you through his plant-filled apartment and provides a few tips and tricks for how you too can transform your apartment into an urban jungle.
The Plant Messiah by Carlos Magdalena
This ultimate book for plant lovers because it is the story of a man who loves plants so much, he risked everything to save them. Traveling all over the world in search of rare, exotic, and endangered plant species he spent years bringing plants back from the brink of extinction.