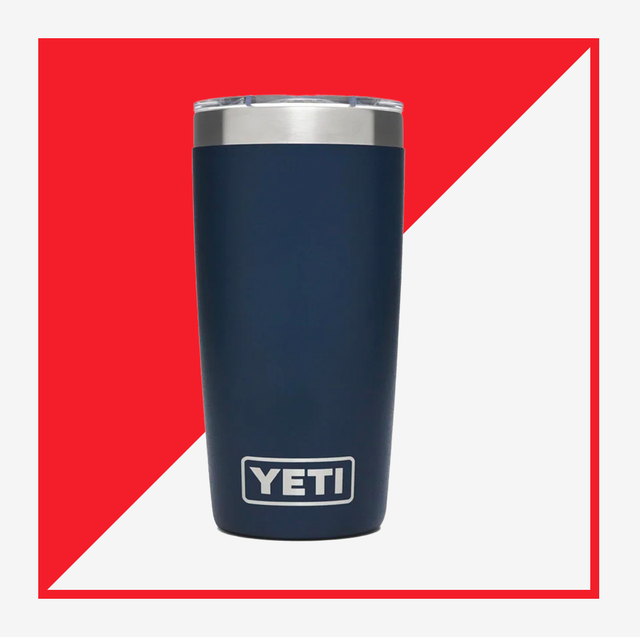 Photos Courtesy of Retailers
When we think of items everyone and anyone can benefit from, coffee travel mugs are at the top of the list. Whether you're rushing out the door on your morning commute, going for a road trip, taking a hike, heading to a sporting event, or just about anything else, a durable thermos to keep your hot beverages warm and cold beverages chilled will come in handy. Even if you're staying at home all day and want to continuously sip on hot tea, you will get joy and use out of an insulating mug.
While this item is so widely appreciated (and usually taken for granted), that doesn't mean all of the options on the market perform the same. Any hardcore coffee drinker knows the disappointment that comes from sipping your daily cup of Joe, only to find out it has turned lukewarm. To narrow down the overwhelming travel mug options available for you to shop, we have tested a ton of top brands, like Yeti and Contigo, to confidently present you with the best coffee thermoses out there.
From the best travel mugs to keep your coffee hot for hours, to other more modern thermos styles with a reusable straw, there's an option for everyone's budget and needs. Keeping in mind insulation levels, leak proof lids, thermos design details, and washability, we guarantee these travel mugs won't disappoint.
Best Overall Travel Mug
S'well Stainless Steel Tumbler
You've seen S'well blow up over the last decade. They have products in every major department store. We knew S'well "made it" when other brands have been knocking off their signature designs.  Suddenly carrying a travel bottle with that S'well logo turned into a status symbol in gyms, offices, classes, and more. While the brand offers travel mugs in a variety of colors and prints, we love this not-so-flashy, quality coffee thermos for daily use. 
It's ergonomically friendly to hold, fits in your cup holder, and is super lightweight for throwing in your bag once you are done sipping. It's simple, stylish, and easy to handle, checking off everything you want in the best coffee mug. Just make sure every S'well bottle your purchase has their authentic seal to ensure it's not a fake. But you'll quickly find out the hard way when your coffee turns cold after 8 hours.  
Keeps drinks cold for 36 hours
Triple vacuum insulation
Keeps Drinks hot for 18 hours
Wide mouth opening (to fit ice cubes)
Best Budget Travel Mug
Zojirushi Stainless Steel Mug
We deem the Zojirushi Stainless Steel mug the best value on this list. For under $20, you can get a top-rated coffee thermos that will keep beverages hot or cold hour hours. It has stainless steel vacuum insulation with a safety lock to prevent the lid  on this travel mug from opening on accident. (You can even tip this upside down without spills.) The wide mouth opening accommodates full-sized ice cubes that will keep them solid for the bulk of your day.  
Keeps drinks cold for 6 hours
Keeps drinks hot for 6 hours
Vacuum insulation
Most Durable Coffee Mug
Yeti Rambler 20 oz Tumbler
This wouldn't be a best travel mug roundup without the iconic Yeti Rambler. Outdoor enthusiasts and seasoned tailgaters know that this thermos lives up to all the hype. On even the coldest days, Yeti's rambler will help keep you warm by serving steamy liquid for hours on end. 
This product has well over 40,000 rave reviews, so if you don't believe us, there are plenty more that will stan this mug. It's shatter-resistant, cup-holder compatible, and dishwasher safe, making cleanup a breeze. The lids are interchangeable, but this once comes with a magnetic slide closure to avoid outside contact on the surface where your mouth lies. This also makes opening and closing a breeze so you can quickly sip on the go, without having to untwist a vacuum seal top.   
Keeps drinks hot for 5-6 hours
Keeps drinks cold for 9 hours
Vacuum insulation
Dishwasher safe
Best Travel Mug For Walking
Hydro Flask Stainless Steel Travel Mug
After thorough testing, there is no travel mug that keeps coffee hot quite like a Hydroflask. And we mean piping hot—even after leaving hot coffee in a freezing car for 8 hours. This thermos won't actually fit in your car cupholder, but the vacuum seal top and flex handle is comfortable to carry on hikes, walks, and errands. It's on the chunkier side, but if your top priority is uncompromising temperature regulation, look no further. 
Keeps drinks hot for 12 hours
Keeps drinks cold for 24 hours
Dishwasher safe
Lifetime warranty
Best Travel Mug For Camping
Stanley Stay-Hot Titanium Multi-Cup
We know, the price point is high on this top travel mug, but if you have the money to spend, you're going to quickly fall in love. And if you're a big outdoorsy guy, you're going to want to consider this investment. 
This Stanley coffee thermos is like magic. It's a new product on the market that uses the innovative materials to make it light as a feather. It's a basic design but can be used for both a mug and koozie (it can fit a beer can,) while promising durability and hours of temperature regulation. There's nothing worse than a travel mug or coffee thermos weighing you down on the trail, and Stanley's latest advances solve that problem.  
Keeps drinks hot for 2 hours
Keeps drinks cold for 3 hours
Leakproof
Dishwasher safe
Vacuum insulation
Best Travel Mug For Road Trips
Contigo Autoseal Travel Mug
We vote the Contigo Autoseal thermos as the best travel mug to use in the car. It fits nice and snug in all car cup holders, and can open and close it's sip compartment with ease. Plus, it delivers on the spill-proof, leakproof promise. Usually with a vacuum seal top, it's a process to unlid and sip, but Contigo figured out how to solve this problem, so you don't have to think twice about coffee spills while on the road. 
Keeps drinks hot for 5 hours
Keeps drinks cold for 12 hours
Dishwasher safe
Spill-proof design
Best Everyday Travel Mug
Corkcicle 24oz Tumbler
Corkcicle's popular prints, funky colors, and pop culture collaborations—Star Wars fans, you're going to want to see this—have swept through department stores, boutiques, gyms, and the internet. They are on the more stylish side of things when it comes to the market of travel mugs with functionality following right behind. 
The brand's 24oz tumbler is perfect for everyday use. Aside from color, it's a straightforward and simple body design, sleek enough to carry and clean without any fuss. It features a subtle nonslip grip and bottom, which is actually extremely beneficial to anyone with butter fingers.  
Keeps drinks cold for 9 hours
Keeps drinks hot for 3 hours
Vacuum insulation
Bodum Travel Mug
A good travel mug is one that gets incorporated into your daily routine. It's a lot easier to do that when your thermos is nice to look at. This sleek metallic coffee mug from Bodum will elevate your car cup holder or work desk situation. It might not be the most durable option on the list, but it brings enough function to the table with an attractive, minimalist design.  
Keeps drinks cold for 9 hours
Keeps drinks hot for 6 hours
Best Travel Mug For Tea Drinkers
Thermos Stainless King 16 Ounce Travel Tumbler
It's probably the travel mug your parents used on repeat to sip out of at all your soccer games as a kid. They might even still have one as an heirloom, as it was one of the first thermal mugs on the market. It can be used for hot ciders, teas, coffees, and soups, and the brand still remains relevant. 
We love it because it has an inner hook for your tea bag. Even with scalding hot liquid inside, the outer remains cool to the touch. The Drinking Lock features a vacuum seal making this leakproof and durable. It fits perfectly under your Keurig or single serve coffee machine, making life easier when you're having a late start to the day.
Keeps drinks hot for 7 hours
Keeps drinks cold for 18 hours
Dishwasher safe
Fits most cup holders
Vacuum insulation
Best Coffee Tumbler With Straw
Simple Modern Classic Insulated Tumbler with Straw
Whether you're an iced coffee addict, or just like to sip on ice cold drinks all day, you'll quickly become hooked over this internet sensation of a cup from Simple Modern. We can't explain it, but something about this travel cup just makes you want to keep drinking whatever liquid you have inside. While it comes with two different interchangeable lids: a flip lid and a straw-id for versatility, we prefer the latter for cold beverages on ice. 
• Vacuum insulated
• Fits most cup holders
• Hot for 5 hours
• Cold for 20 hours
• Dishwasher safe
Keeps drinks hot for 5 hours
Keeps drinks cold for 20 hours
Dishwasher safe
Fits most cup holders
Vacuum insulation
MiiR Insulated Travel Tumbler
MiiR is another household name is the travel mug space. Even though this coffee thermos looks more luxe and delicate, it's surprisingly durable. And while some stainless steel travel mugs can leave a slight metallic aftertaste, you won't have that problem here. Your morning coffee will still be piping hot by the afternoon. When sealed, the leakproof lid can handle bumpy commutes, even in your backpack.  
Vacuum insulation
Fits most cup holders
This content is created and maintained by a third party, and imported onto this page to help users provide their email addresses. You may be able to find more information about this and similar content at piano.io