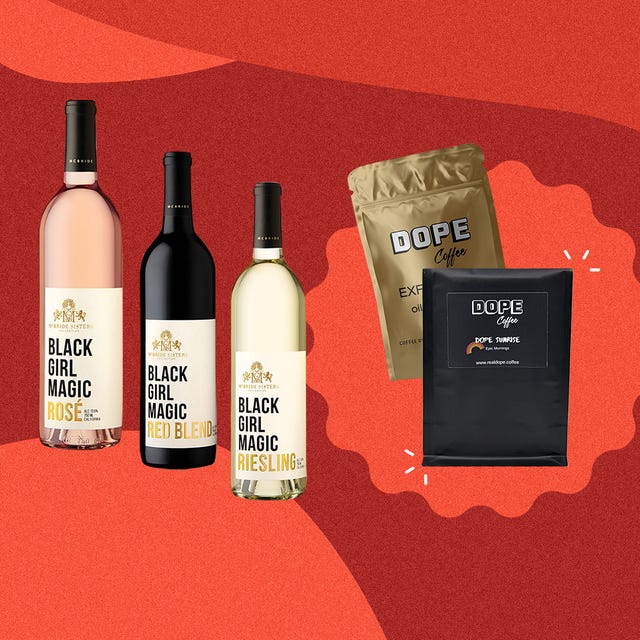 Alexandra Folino/Dope Coffee/McBride Sisters Wine
Protests have erupted in cities across the U.S. in response to the May 25 death of George Floyd at the hands of police in Minneapolis, which joins a long list of such losses. Although fiery demonstrations have been the center of attention, there are other forms of support being deployed as well.
While companies take to social media and email lists to share statements with varying levels of sincerity and candor on the topic, many are calling for supporters of these protests to reconsider where they spend their dollars—in particular, how often they support black-owned businesses.
As the cofounder of Bold Xchange, an online shop that exclusively sells black-owned brands, I am familiar with the concept of buying black as a form of protest. While my team and I spend a lot of energy making the shopping experience delightful, our core mission is to aid in the growth of black businesses, and therefore black wealth. According to Nielsen, Black Americans have $1.3 trillion in annual buying power, a figure which underscores the force with which we could apply financial pressure on corporations that do not serve our interests. More importantly, a collective commitment to support black businesses where possible has the power to invigorate a group that continues to be largely shut out of opportunities for growth, sustainability, and therefore long-term success.
In this way, it is the responsibility of Black Americans and our allies to support black businesses, unlocking access to wealth, political power, and agency in a nation that has devalued black lives and voices for too long.
Listing all the black businesses worth supporting would require an infinite scroll, so instead, I'll focus on some of the brands that deserve space in your kitchen—many of which I have in my own.
PUR Home
Lavender Grapefruit Dish Soap, 34-oz.
pur-home.com
$12.00
Having a squeaky clean kitchen is one of the best feelings in the world, and PUR Home is one of the best brands you can use to make that happen. Their non-toxic, plant-powered products are tough on messes, but skip harsh chemicals and irritating dyes. With everything from waste-free soap bars to dish detergent and countertop cleaners, it's your one-stop shop for a clean house.
Dope Coffee
Bagged Coffee Set, two 12-oz. bags
realdope.coffee
$31.00
Veteran-owned and Atlanta-based Dope Coffee sells four varieties of ground coffee blends. The beans top-shelf and fair-trade, and you'll find them in K-Cup form, too. I gifted my mom two packs of Dope Coffee for Mother's Day and she's already asking for more. (Not a coffee drinker? You can still offer support by investing in the company.)
McBride Sisters Collection
McBride Sisters Collection Wines, from $17
mcbridesisters.com
$16.99
Although I'm in the early stages of developing a palate for beer, my taste for wine has been steadfast. Enter McBride Sisters, the makers of one of my favorite Rieslings, aptly named "Black Girl Magic." They also make a red blend and a rosé in that line, as well as a slate of other California grape varieties.
Ivyees
Raw Honey Bundle, two 9-oz. jars
ivyees.com
$31.99
If you're an avid shopper at Whole Foods, you may have come across Ivyees, a brand that sells all things honey. While the product lineup includes hair and body care, the brand's signature products can be found in the condiment aisle: raw honeys with ingredients like sorrel and ginger that turn the sticky sweetener into a superfood.
Blondery
Brownie Variety Box, 24-pieces
blondery.com
$55.00
If blondies are more your thing, Blondery is the brand to follow. To give you a sense of how serious they are about blondies, they recently posted a photo of an 11-layer blondie cake—and proceeded to raffle it off to followers on Instagram. Red velvet, strawberry rosé, and pecan salted caramel are some of their most popular flavors. (P.s. The site is currently on pause, but you can start shopping again beginning June 21.)
Cuples Tea House
BMore Chai, 4-oz.
cuplesteahouse.com
$15.00
With enough variety to make your head spin, Cuples Tea House brands itself as an "urban tea experience," offering tea that delivers in flavor and healthfulness. If you're new to loose leaf tea, Cuples sells accessories as well, including a range of infusers, pots, and tea tumblers.
Vicky Cakes
Original Buttermilk Pancake and Waffle Mix
vickycakesonline.com
$4.99
The best family recipes get passed down through generations, and Vicky Cakes is no exception. The dairy-free pancake and waffle mix was originally created by Vicky, who only set out to feed her family of five. Forty years later, the products are still made without preservatives or artificial ingredients, and the company remains fully black-owned.
Uncle Nearest
1884 Small Batch
unclenearest.com
$49.99
Mysteriously referred to by the brand as "the whiskey maker the world never knew," Uncle Nearest spent much of his life making whiskey at Call Farm in Lynchburg, TN. As the story goes, Uncle Nearest may have been the one to perfect the Lincoln County Process—the filtering of whiskey through sugar maple charcoal before aging in charred oak barrels—which gives Tennessee whiskey its signature flavor. The strong history of this brand is backed by a seriously great product. It took home 45 awards last year, making it the most-awarded American whiskey of 2019.
It's Poppin Gourmet Kettle Korn
Kettle Korn Kones, 10-pack
itspoppingourmetkettlekorn.com
$25.00
As Charlotte, NC, transplant, I would be remiss not to mention at least one Charlotte-based black-owned business. It's Poppin' Gourmet Kettle Korn operates in the popular 7th Street Market in Uptown, selling popcorn with flavors you don't hear every day: hot wings, toffee, jelly donuts, and their signature fried chicken kettle korn. Order online and select from a range of sizes, in case you don't want to commit to a full tub of hot wing popcorn on the first try.
VeganSmart
Organic All In One Nutritional Shake, Vanilla Crème
vegansmart.com
$29.99
If you'd prefer your dairy-free alternatives to be something with a little (read: a lot) less sugar, VeganSmart is a tasty go-to for plant-based protein. Their shake powders swap out the usual chalky aftertaste in favor of a creamy finish packed with probiotics, vitamins, and no animal products. Even better? You've got so many flavors to choose from.
Golde
Green Detox Tea And Face Mask Kit
golde.co
$58.00
Speaking of plant-powered products, Golde sells superfood powders with ingredients like matcha, turmeric, and cacao. My favorite way to have the original tonic is blended into a smoothie with fruit and non-dairy yogurt. It adds a rich flavor (thanks to hints of cinnamon and ginger) and is specially formulated to boost gut and immune health. They also sell beauty products made with superfoods.
Swag Brownie Barz
Yolo Rolo Blond Bombshell, 6 XL bars
swagbrowniebarz.com
$36.00
I like to think I've had (and baked) some pretty good brownies in my life, but none compare to Swag Brownie Barz. Handmade and packed with familiar flavors and candies, the brownies and blondies from this brand are irresistible. Their latest limited-edition flavor featuring Rolo candies sold out in less than 24 hours. Last year, my cofounder and I tried a dozen varieties of Swag Brownie Bars and let me just say, the sugar coma was more than worth it.
Sankofa Beer Company
Pint Glass, 16-oz.
sankofabeer.com
$15.00
Another D.C.-based brand, Sankofa Beer is the brainchild of Kofi Meroe and a childhood friend, both of whom were born in the U.S. but grew up in Ghana. Sankofa, a word native to Ghana's Akan tribe, is commonly translated to "go back and get it," the concept that knowledge is gained by looking at history and heritage. There is no question that the name of his brand and the flavor palette of his brews harken to Meroe's continental African upbringing. You can't buy these beers online quite yet (they're available in a handful of shops), but you can support online by purchasing merch.
LoAdebar
LoAdebar Sampler
loadebar.com
$9.00
Initially designed as a grab-and-go snack to keep people fueled during long bike rides, LoAdebar makes energy bars with fourteen base ingredients, including nutrient-rich seeds, nuts, dried fruits, and plant protein sources. I'm no cyclist, but I found the bar to be tasty and filling without weighing me down.
Spice Suite
Spice Suite: The Little Black SpiceBook
thespicesuite.com
$30.00
I was first attracted to The Spice Suite when I came across their cooking videos, which had me wishing Smell-O-Vision was a real thing. Check out their curated spice box, released on the first of every month, or visit their Washington, D.C. store when it reopens post-COVID-19.
Ivy's Tea
Rise & Grind Black Tea, 1.5-oz.
ivystea.com
$15.00
Ivy's Tea is a hip-hop-inspired brand that sells teas, honeys, and limited-edition china teacups that give nods to song titles, lyrics, and even one beloved rapper. (My personal favorite is a cup of Rise & Grind black tea with Side Piece cinnamon-infused honey.) The company's owned and operated by a trained herbalist, so the blends are crafted for both taste and health benefits. Good for you, and good for others, too: On the third Friday of every month, Ivy's Tea gives a portion of the day's sales to charity. 
This content is created and maintained by a third party, and imported onto this page to help users provide their email addresses. You may be able to find more information about this and similar content at piano.io
This commenting section is created and maintained by a third party, and imported onto this page. You may be able to find more information on their web site.