While we love Houston's craft beer scene, it's not exactly conducive to getting work done. Fortunately, Houston's also pretty serious about its coffee culture, with bean-obsessed cafes and local roasters keeping Houstonians well-caffeinated, and well-connected to ample Wi-Fi. These grade-A grind shops all come with a side of free internet access (so long as you're actually buying stuff), making them the perfect spots to work on your side hustle or "work from home" — even if all that means is dipping churro doughnuts into your endless drip.
Recommended Video
The Best (and the Rest): Best Easy Ramen Hacks and Winter Beers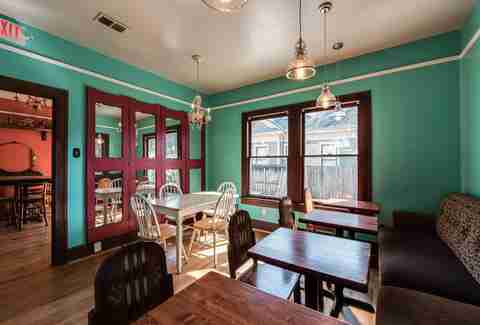 Montrose
Need a quiet place to get that screenplay done/started? Hit this Latin American-style coffee house, tucked inside a charming house off Lower Westheimer. It's gained fans thanks to its flawless café cubanos, café con leches, and an horchata iced latte that's pretty much a necessity to survive the Houston summer. With a focus on beans sourced right from Mexico and Central and South America, the crew keeps things local by featuring a new local roaster every two months (and they also serve Katz Coffee on the regular). Fuel your latest project with a cortadito and an empanada, and daydream about a place way more relaxing than Houston when you need a break.
Best for doughnut enthusiasts: Morningstar
Heights
From Greenway Coffee and Blacksmith's David Buehrer and Ecky Prabanto, this breakfast, lunch, and coffee stop lures go-getters with its modern, relaxed interior and incredible Greenway grinds that keep the mind fresh. There's also an entire matcha beverage program and a rotating menu of eats colored by Southeast Asian and Southern touches. Snag a table next to an outlet and sip café sua da alongside an order of sambal-honey butter chicken biscuits, espressos with fritter accoutrements, or take turns dunking matcha-frosted and cinnamon-sugar "cop doughnuts" into black coffee so good you'll forget all about milk.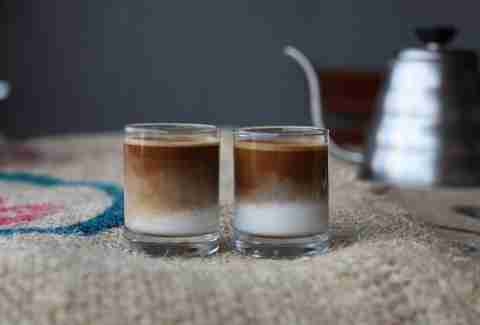 Best for co-working over seriously good cups: Boomtown Coffee
Heights, Downtown
This local darling started life as a roaster, putting out small batches of perfectly scorched artisan beans daily and supplying shops around the city & state. Nowadays, Boomtown has its own specialist java bars (one on 19th and two Downtown) where you'll find chatty locals on laptops, reliable Wi-Fi, a solid lineup of cafe foodstuffs, and talented baristas pulling big-bodied espressos, smoothly sweet milk & honey lattes, and addicting 12-hour cold-brewed toddys.
Best for cookies & conference calls: Blonde Biscotti
Montrose
By cookies we obviously mean biscotti, but you get the point. This bright-eyed Montrose cafe makes its soft-baked biscotti (and nut milks!) in-house, from cinnamon roll and rich red velvet to blonde biscotti bites that make the crunch for a yogurt parfait. The treats pair wonderfully with what just may be the best iced honey latte in town. You'll soon be able to pick your poison and enjoy your goods in its new Cookies & Coffee conference room, which is currently being built out.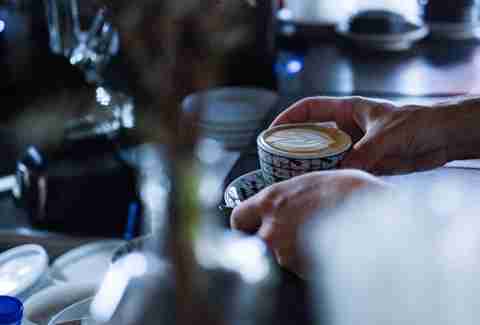 Best for those who support local: Blacksmith
Montrose
Sure, this café is home to the world's finest sausage, egg, and cheese breakfast biscuit – but it's the actual coffee and love of all things local that makes it so cultishly adored. The magic all started with coffee wunderkind David Buehrer's tiny Greenway Coffee bar in Greenway Plaza. Next, Buehrer and the now dissolved Clumsy Butcher restaurant group dreamt up this larger shop on Westheimer, and saying it was a hit is an understatement. Now under the umbrella of Underbelly Hospitality, Blacksmith's meticulously sourced roasts are served via lattes, cappuccinos, and cortados alongside that fantastic biscuit — which, seriously, you have to order. Grab a bar seat if you need an outlet, or settle outside on one of the patios if you want some fresh air.
Best place to work from a leather couch: AHH, Coffee!
EaDo
You're pretty guaranteed to find a seat at this hipster coffee shop, and a leather one at that. Snag a chair or couch next to one of the many outlets and fuel your workflow with small-batch beans roasted at AHH's big bro, Argus Coffee Co. You can get unlimited refills on the daily drip, and there's back-up Wi-Fi, so really nothing can go wrong here besides the fact that you might feel too comfortable to actually get work done.
Best for fueling an all-nighter with sugar: Tout Suite
EaDo 
This sweet shop and eatery is one of the largest spaces on the list, with no shortage of seating, a laptop bar, and plenty of outlets, plus a wild assortment of sweets to keep you going from morning till midnight. Its coffee program runs the gamut from flat whites and nutty cortados to a creamy ca phe sua da, which is also available by the bottle. Pair your drink with pastries made fresh daily, including a rainbow of macarons and an 18 layer cake MADE OUT OF CREPES. There's all-day savory stuff (and beer and wine), too.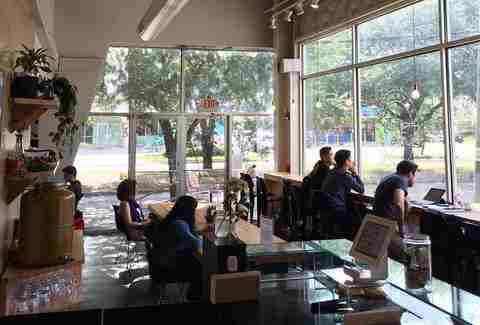 Montrose
You'll always find a steady crowd at this artsy Montrose haunt, and it's not just for the light and airy space, free Wi-Fi, gelato and breakfast tacos, and food truck parked out front (though those things probably help). The chalkboard menu of coffee and teas are what really pack 'em in, including heavy hitters like salted caramel lattes, frozen chai creams, and Euro-way espresso Cubanos, plus a clutch daily black coffee with free refills.
Best for emergency wine while you work: Penny Quarter
Montrose
For the times when your workload necessitates a switch from beans to grapes, this contemporary all-day cafe has your back. Housed next to Anvil in the former Etro space, the sleek, airy shop offers plenty of cozy seating (there are couches!), plus coffee, eats, and an impressive list of wines available by the glass or bottle. Get a buzz going with some Ethiopian drip, try the finest Irish coffee in town, or stick around for happy hour when those glasses of wine can be had at half-price (weekdays from 2-5pm).
Best for all-day lingering: Slowpokes
Various locations
Got a serious project that's gonna take some time? This cafe/wine bar hybrid is a perfect place to hunker down, with locations in the GOOF area, Upper Kirby, and a third to come in Spring Branch. The local mini-empire keeps things interesting by offering guest roasters in addition to its house beans… and by offering beer and wine. Get energized via lattes, pour overs, nitro cold brews, and eats from grilled cheese to churro donuts.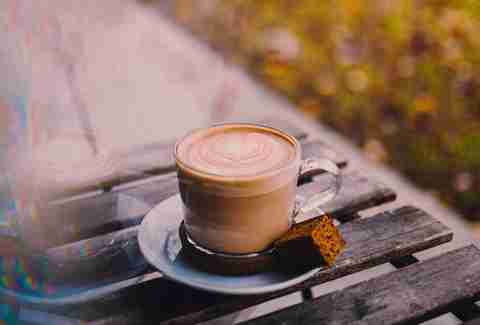 Shady Acres
Work experiences tend not to be karmically fulfilling, and while we're not saying that'll be different at Throughgood, you'll definitely be getting good karma by association. The shop works to better the lives of others "through good" coffee (get it?), and the folks behind it have been serving hot meals to homeless women and men in Downtown Houston for over 25 years, eventually founding the Temenos Community Development Corporation to provide housing to previously homeless people. A portion of your Amaya Roasting drip and chai latte will help with that, and you can also enjoy it with some sunshine out on the patio.

Third Ward
Features like printing services and built-in laptop nooks with outlets set this small, under-the-radar cafe apart from the flashier pack, though the local artwork and soulful jams in the background make it  — as does the local artwork and soulful jams pumping softly in the background. Fuel up with dirty chais, double shot coffees, breakfast sandwiches, and baked goodies, and then get back to business.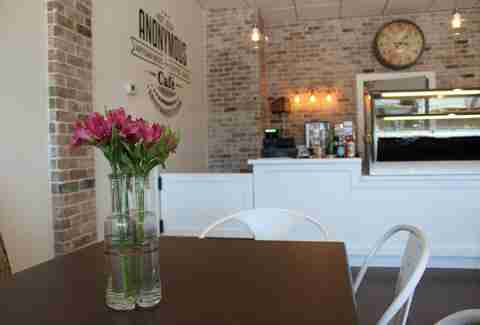 Best Pinterest-perfect experience: Anonymous Cafe
Upper Kirby
Clean, bright, and modern, this tiny cafe looks like it might've been designed by Joanna Gaines (it wasn't). It's not all about the looks, though the Italian coffee is on point; there are breakfast croissants, souvlaki plates, and pastries from spanakopita to a weekly changing pound cake. To top it off, all the outlets have USB ports, and the Wi-Fi is probably more stable than your current relationship.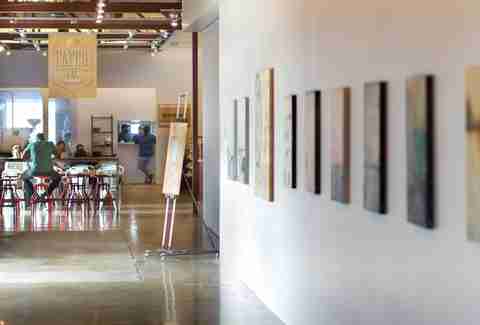 Best place for industrial vibes: Paper Co.
A reincarnation of the late Taft Street Coffee, this coffee refuge is housed in a refurbished paper factory beside the Ecclesia Church, offering an open and airy space with tons of seating and reachable wall plugs. Not only does Paper Co. take care to responsibly source its on-site-roasted beans, but 100% of its profits go toward creating space for and feeding the homeless. Sip on pour-overs, foamy macchiatos, and flat whites, and feel damn good while you do so.

Sign up here for our daily Houston email and be the first to get all the food/drink/fun in town.