The Covid-19 pandemic has made travel advisors more essential to Hawaii visitors than at any time since the birth of the internet. As the choppy rebound from the pandemic continues, the hurdles to a smooth, stress-free vacation in the Islands dot the travel-planning landscape like shrimp trucks along Oahu's North Shore.
First, there is the process of navigating the Safe Travels protocol for entering and receiving an exemption from a 10-day quarantine. Tourists started flocking to the Aloha State in big numbers during spring break, a surge that continued through the summer, straining hotels, restaurants, tours and attractions still operating with limited staff and reduced capacity. Planning ahead for things like car rentals, dinner reservations, surf schools and museum visits has never been more important. When the current recommendation from Gov. David Ige against tourism to the Islands is lifted Nov. 1, visitors are expected to return in droves again.
Luckily, the Islands are home to many lesser-known but equally awe-inspiring attractions, parks and experiences that serve as worthy replacements for the booked-up items on a client's bucket list. 
Oahu
Bishop Museum is one of the best places in Hawaii to get a comprehensive view of the history of the archipelago and its people, while Iolani Palace, the seat of the monarchy and site of Queen Liliuokalani's captivity during the U.S.-backed overthrow of the kingdom, is a walk through a pivotal period in the past. But besides these two well-known sites, Honolulu is home to several historically rich attractions.
The Hawaiian Mission Houses are a National Historic Landmark in downtown Honolulu where Hawaii's oldest Western-style house and other buildings from the 1800s are preserved. The library houses both English- and Hawaiian-language archival material illuminating the complex and colorful chronicle of the Islands. Tours are offered, and it also hosts live theater and music performances throughout the year. 
An aerial view of Leahi, or Diamond Head, in Waikiki. Photo Credit: Hawaii Tourism Authority
The Manoa Heritage Center in Honolulu's uplands is a 3.5-acre educational site devoted to promoting a deeper understanding of Hawaii's cultural and natural heritage. Programs are centered around Kukaoo Heiau, the only reconstructed ancient Hawaiian temple in the ahupuaa (land division) of Waikiki, and its gardens of rare native Hawaiian plants. 
When most people think of Pearl Harbor, they focus on the USS Arizona Memorial, the solemn site built above the battleship sunk in the Dec. 7, 1941, Japanese assault. Reservations for the free memorial fill extremely fast, but the harbor is well worth a visit for its several other U.S. military-related attractions.
Following a $23 million update, the USS Bowfin submarine museum reopened in March as the Pacific Fleet Submarine Museum. Exhibits chart the course of Navy undersea duty from the early 20th century to the newest $6.5 billion Columbia-class ballistic missile submarines.
Additionally, the Battleship Missouri, where Japanese officials signed articles of surrender ending World War II on Sept. 2, 1945, has undergone a handful of restoration projects recently, while the Pearl Harbor Aviation Museum chronicles the history of World War II in addition to documenting the rise of U.S. military air capabilities through the Gulf War. 
Kauai 
To access the rugged and breathtaking Napali Coast State Wilderness Park as well as the 22-mile-roundtrip Kalalau Trail (which requires its own separate permit), visitors must enter through Haena State Park, which started requiring advance reservations in 2019 for all except Hawaii residents and permitted campers. Those spots can only be booked 30 days in advance and frequently sell out within hours of release.
But if visitors are unsuccessful by land, they can always try approaching the picturesque cliffs, lush tropical valleys and towering waterfalls by sea or air.
A kayak or boat tour affords more sightings of marine life and exploration of coastal rock formations. From the air, helicopters descend into hidden valleys, offering unmatched views and photo opportunities of oceanside cascades. Holo Holo Charters, Captain Andy's Sailing Adventures and Kayak Kauai all offer Napali Coast tours by sea, while Jack Harter Helicopters and Blue Hawaiian Helicopters are options for the aerial approach.
Island of Hawaii
Hawaii Volcanoes National Park's Kilauea tends to grab the headlines and lion's share of volcano visitors, but outside the park on the Big Island's west side lies another active volcano that provides an enriching dive into nature and Hawaiian culture, Hualalai. 
The summit crater area is private and considered wahi pana (a sacred place), only accessible via a guided tour through Uluhao o Hualalai or Hawaii Forest and Trail. Excursions include a climb through a lava tube, hiking in a cloud forest and visits to previous eruption sites. 
When it comes to Hawaiian coffee, the Kona region gobbles up the accolades. In recent years, though, coffee production has grown in other areas of the island, including Kau, Honokaa and Hilo. Explore less-trafficked areas and see what flavors coffee beans grown in different regions and soil compositions produce with stops at Kau Coffee Mill and Hilo Coffee Mill; both offer tours.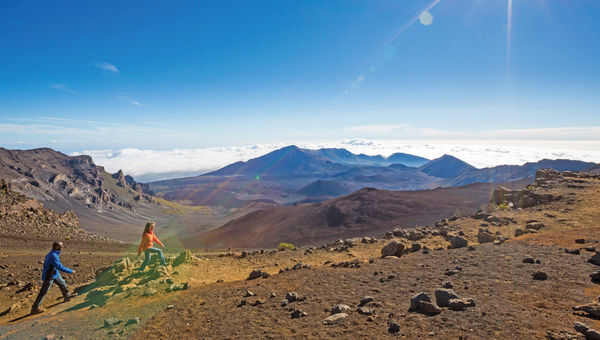 Maui's Haleakala volcano is very popular at dawn, but visits later in the day still deliver stunning views. Photo Credit: HTA/Tor Johnson
Maui
Sunrise viewing at Haleakala, "House of the Sun," got so popular the National Park Service instituted a reservation system for dawn hours in 2017. But a visit later in the day provides the opportunity to explore the trails leading into the summit crater, which is chilly and less hospitable in the early morning. Sunsets are not too shabby on top of Maui's tallest peak, either, with fewer spectators obscuring the vistas.
The Road to Hana has become a flashpoint in tourism's return to Maui, as residents of the remote eastern town are clamoring for officials to take action against visitors who clog the route. The flight to Hana from Kahului Airport buzzes low over the coast for 20 minutes, offering bird's-eye views of reefs in the turquoise waters and waves crashing against the sea cliffs. Bonus: Roundtrip fares on Mokulele start at less than $100, far less than a car rental costs these days.