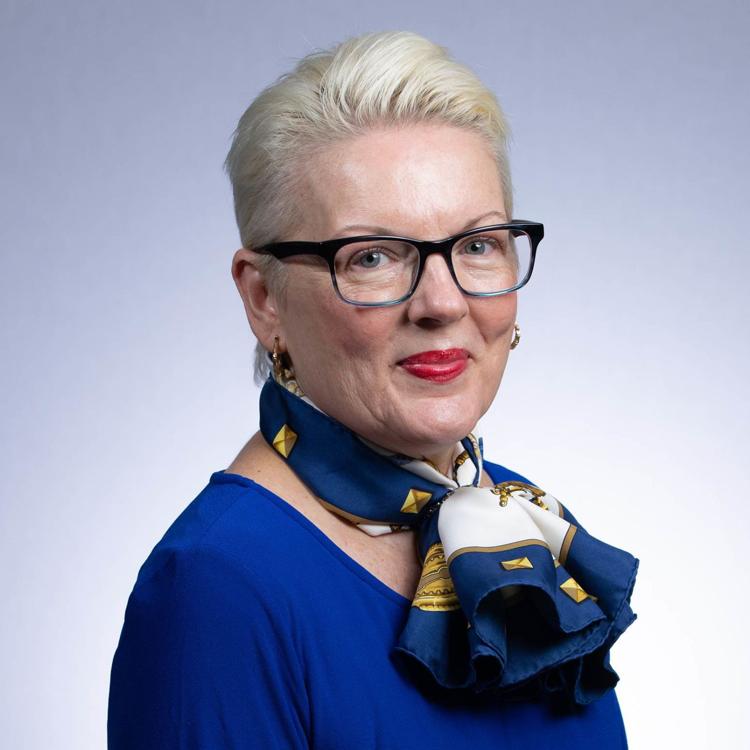 With any controversial topic, critics sometimes muddy the waters by misstating what their opposition is saying, a Motlow professor says.
While justice system reform is an important issue facing communities across the country, the slogan raised in the wake of the death of George Floyd – defund the police – is too easily misapplied as a whole to claim all its advocates are calling to shut down law enforcement agencies, according to Motlow State Community College Professor of Criminal Justice Administration Dr. Lucy Craig.   
Craig, who is also the Tennessee State University Coordinator  2+2 Program in Criminal Justice, called the slogan unfortunate.
"Defunding the police means reallocating resources – reallocating responsibilities to where they really ought to be," Craig said.
Craig explained that over the last several decades, communities across the country have cut back on funding for social programs, state mental hospitals, counselors and social workers. These cuts shifted the responsibility for addressing these problems to law enforcement.
"All these responsibilities have been piled on to law enforcement officers who are not mental health counselors, they don't have a degree in social work and are not medical professionals," Craig said.
"Yet we're asking them to perform those duties. We're not paying for the actual professionals to do it," she said.
Police have too much on their plates already, and they are tasked with jobs that they don't have the time or expertise to do.
"It places a great deal of stress and strain in their lives and makes them very unhappy at work," she said.
Craig called shifting funds to those better suited to perform social work, mental health and drug treatment a win-win situation.
"Put that money to actual professionals in those areas. Let the police get back to being our guardians and our law enforcement agents only," Craig said.
She explained that in reaction to militaristic policing in the 60s, Congress funded criminal justice research and other programs to help further educate police officers. Yet around  the turn of the century, opinion shifted and already over tasked police departments were further tasked with social work-related jobs. Couple that situation with a growing trend of supplying local agencies with military hardware, created a new environment on the streets.
"Arming them like they are going into battle rather than working in the community and being helpers, that changed things. And here we are today," she said.
"It's really, really important for communities to trust their police departments and have a good relationship with them. A lot of solving of crimes happens because the community gets involved and helps the police. They're not going to pick up the phone and help the police if they don't trust them."
 Craig added, "It is the responsibility of the chief in maintaining professional standards on the force.  If a department is having excessive force issues, the chief bears the ultimate responsibility, and that is why they are often asked to resign – as we have seen in at least two major metropolitan forces in the past couple of weeks."
Overall, rebuilding or maintaining trust is important, Craig said, as is education. She warned that as whole, officers, especially those in small communities, lack higher education.
"Communities need to say we want an educated force and we want them to allocate some of our funding to social programs so the police are not having to deal with mental health issues in the community," Craig said.
Craig said that as a police force increases the number of well-educated officers, the force is better able to maintain positive relationships in the community. Craig commended programs like Drug Court and other local social work programs for their role in reducing recidivism within the system. These programs work, she says.  
Coffee County Central High School criminal justice teacher and former local law enforcement officer Toby Alonso said that the theory doesn't work in practice.
"Thus far," he notes, "American communities haven't seen this measure work yet."
He explained  that defunding a police department by 10% in order to reallocate those funds to mental health in the hopes of future crime prevention is not effective due to the differences in salaries of a mental health expert and a police officer. The reduction in police manpower overrides any possible gains offered from the social program.  
 "So eliminating 10 cops will only buy you three mental health experts…. Those three experts reduce crime by 2%, but crime climbs by 4% due to there wasn't enough cops maintaining the current 8% crime rate in the hot spot areas," Alonso wrote.