When COVID-19 hit, almost everything shut down.
However, like any good story, there are those who defy the odds. Vitality Roasting, a St. Paul based small-batch roaster, was able to open its doors as many other local spots had to close theirs.
With two young, passionate women at the head, Vitality was able to find success during the pandemic.
Vitality Roasting is run by St. Thomas senior Amanda Pardi, who serves as the account executive, along with her friend and head roaster, Aubrey Fisher.
Vitality originally started in 2018 with the sole purpose of making coffee for Black Coffee & Waffle Bar (BCWB), its parent company, but when COVID-19 hit and relief checks came in, an opportunity opened for Pardi and Fisher to turn it into a business.
"It's super weird to realize that we only have this job right now because of COVID," Pardi said.
Pardi and Fisher both worked at Black Coffee & Waffle Bar and were looking to do more. Pardi started running BCWB's instagram account while Fisher learned how to roast coffee. BCWB and Vitality's owner gave Pardi and Fisher the money to turn Vitality into its own business but it came with a deadline.
"He was like, 'I'll give you guys three months to see what you can do with Vitality. If it works, you can keep going. If it doesn't, then we'll just go back to just roasting for Black,'" Pardi said. "Having to prove your worth to someone is hard especially during a pandemic."
Despite the opportunity presented by COVID-19, Pardi said finding customers was a difficult task.
"It's really narrowed who we can reach out to, because originally, we were catering coffee specifically for (restaurant) menus," Pardi said.
Pardi said her main point of sale had been going to restaurants and giving them samples of Vitality's coffee. Without this in-person interaction, Pardi had to think of other ways to sell coffee.
"I started emailing people, and then also reaching out on Instagram… that is probably where we've found most of our success," Pardi said.
Though interaction was tough, Pardi said being able to see Fisher make Vitality's coffee motivated her to sell.
"It's really easy to sell a product when you see how much love and passion and intentionality is put into it," Pardi said.
Fisher said she stayed motivated because of her love of coffee that came from a young age.
"(My dad) actually roasted his own beans from home in a popcorn machine," Fisher said.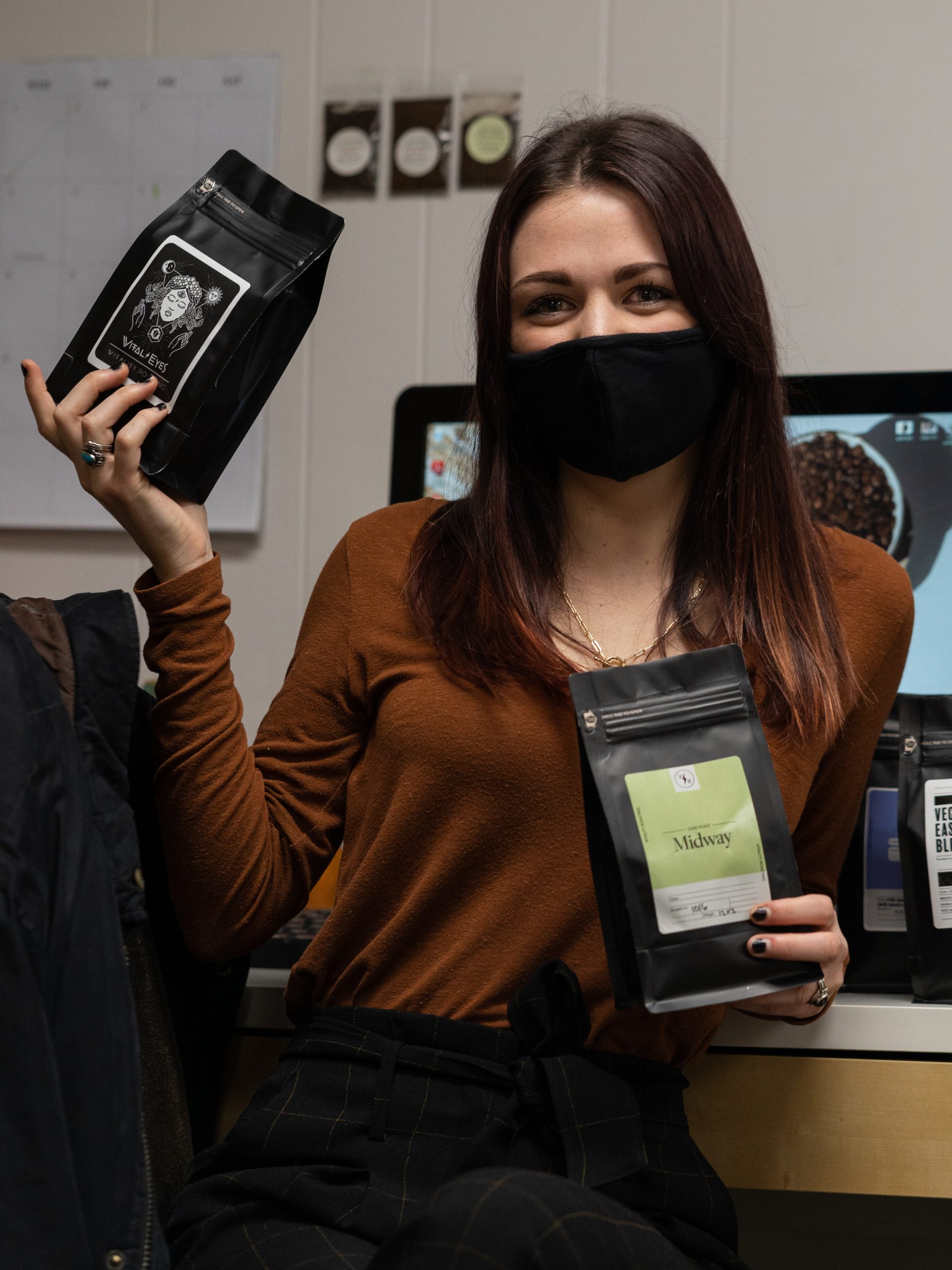 During their three month test run, Vitality found a strong customer base while also getting into cafes and bakeries.
Pradi said Fisher, who roasts Vitality's coffee, is one of few women in the roasting community.
"It's a very male dominated industry," Pardi said. "It's just super cool to be able to support a woman roaster and also work with her … she's so passionate about what she does, and it just rubs off on me."
Fisher said that being a woman in the industry has been challenging but not something she focuses on.
"I feel like people don't take me seriously," Fisher said. "I'm not even (trying to) prove anybody, I just do me."
Pardi and Fisher have remained focused on trying to support women-owned small businesses like theirs.
"We are prioritizing creating a community and giving the same love and support that we've been receiving," Pardi said.
One way Vitality intends on doing this is by making the switch to only buying from woman-owned farms.
"Most farmers are men, and there are some really amazing female farms and we want to support them in the way that we've been supported," Pardi said.
Pardi and Fisher were able to succeed in their goal of finding clientele during the pandemic and are now chasing greater goals. They intend to open a store in six months to a year, hire more staff and buy a new roasting machine.
Pardi, who is a senior digital media arts major and a general business and sustainability minor, said that her time at St. Thomas helped prepare her to help run a business.
"St. Thomas really did give me a foundation to be in this business in the capacity that I am and to help it thrive in the way that it has," Pardi said.
One of the reasons Pardi cares so much about coffee is because of a mission trip she took through St. Thomas her sophomore year.
"We went to Bolivia and we stayed at a university that also had a coffee farm, and we were able to firsthand see how coffee is made and grown and processed, and it was mind blowing," Pardi said. "I still, to this day, will look at one bean of coffee and be like, 'it took you so much to get here.'"
The passion that Pardi has gained for coffee has helped her feel like Vitality isn't a job.
"It's so rewarding to just put all of yourself into something if you really truly believe in it," Pardi said. "It's really easy to do something when your heart is so set on it."
Scout Mason can be reached at maso7275@stthomas.edu.