"The artists were from streets- A couple of paintings are from India, Others are from China- Malaysia, Vietnam, Cambodia, Thailand, France, Belgium," says IFSC Association founder and businessman Ramesh Chandra Vohra.

According to the Commonwealth War Graves Commission, 138,000 soldiers from India, then under British rule, were sent to Europe during the First World War. Most of them were deployed in the Ypres Salient and at nearby Neuve Chapelle in France in 1914-15, where 74,000 of them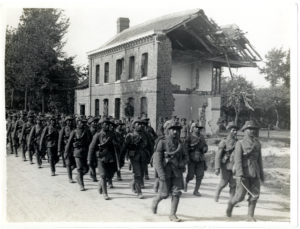 died, fighting for a foreign country in a foreign land.
November 11 was marked as Armistice Day by the allied nations, although a formal peace agreement was only reached when the Treaty of Versailles was signed the following year.  However, the name was later changed to Remembrance Day by the Commonwealth nations and Veterans Day in the United States.
In continental Europe, the supreme sacrifice of Indian soldiers in Europe is recorded at Menin Gate, in Ypres, Belgium, and at the memorial for Indian soldiers in near-by Neuve Chappelle in France. In 2002, an Indian Memorial was erected on the lawn south of the Menin Gate.
Field Marshal Sir Claude John Eyre Auchinleck, the commander in chief of the British Indian Army since 1941, is said to have declared that the British "couldn't have come through both World War I and II if they hadn't had the Indian Army," the Indian braves who died in World War I were mostly forgotten by modern India, since they were perceived more as soldiers of princely states and the British Empire.
However, things have started changing over the past seven years, and the contribution and sacrifices made by the braves from the Indian subcontinent to the first great war is finally being recognised.
Vohra is quick to thank "the Indian diaspora in France, and extra-ordinary support of the French local and regional authorities – who are filled with gratitude and extend all cooperation wholeheartedly," for the success of the commemoration event which he has been holding since2015.
"The Dupuy Mayor of south west London Sunil Chopra was a main personality helping me," he says, while

thanking  "The mayor of Cergy Pontoise who inaugurated the Exhibition and launching of coffee table Book, and Brig General Mohan Nikam and ex- Brig General Ajit Apte from the Maratha Regiment."
Lamenting the fact that most Indians don't seem to remember much about the sacrifices of these men from the subcontinent who died in a land far away, he says: "I started working on our unsung soldiers in 1993.  Not many people know about them, and each and every person from our Bharat should know about their sacrifices."
"Today is Remembrance Day, marking the end of World War I," says a release by the Indian Embassy in Belgium. 
It says: "We also remember the brave Indian soldiers who fought during the First World War.  Indian military aviators flew in the skies over Belgium. Hardit Singh Malik, also known as the 'Flying Sikh', was the first Indian to be commissioned as an officer into a combatant arm. He flew in the Battle of Passchendaele, also known as the Third Battle of Ypres in 1917. Malik served with distinction, ending the war with a German bullet in his leg, which he carried till the end of his days. Hardit Singh Malik later became India's Ambassador to France after independence. We will never forget."