SALT LAKE CITY — This long, hot summer has me reaching for all the cold treats to cool down, so I asked some of my favorite registered dietitian food bloggers to share their best cold treat recipes.
Here's a list of 16 refreshing drinks, smoothies, ice cream and other cold foods that won't just keep you feeling good and cool, they'll keep your belly happy, and some will help you stay hydrated during this dry, hot Utah summer.
Drinks
1. Homemade Chocolate-y Mint Milkshake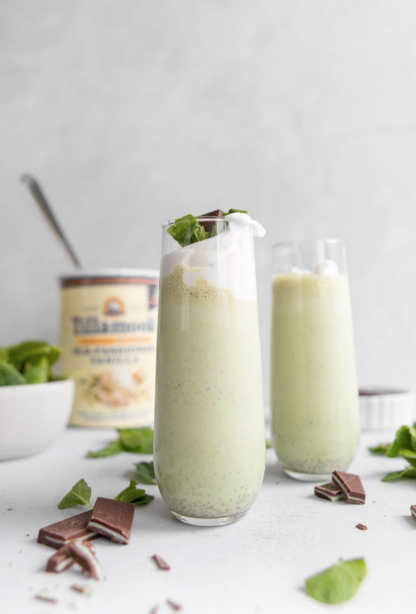 This shamrock shake is too good to only enjoy on St. Patrick's Day. It's made with luscious ice cream, chocolate mints, fresh mint and a couple of spinach leaves for a bright green color.
2. Watermelon Banana Smoothie via registered dietitian Jinan Banna
This smoothie is made with a unique and delicious combination of ingredients such as watermelon, bananas, ginger, coconut water, orange juice and basil. It will definitely cool you down this summer in the most delicious way.
3. Homemade Citrus Sports Drink via registered dietitian Anne Mauney
This drink is a great option if you're outside exercising in the heat. You'll definitely want to replenish the electrolytes you lose through your sweat — even if you don't feel like you're sweating.
4. Cold Brew Coffee Protein Shake via registered dietitian Megan Byrd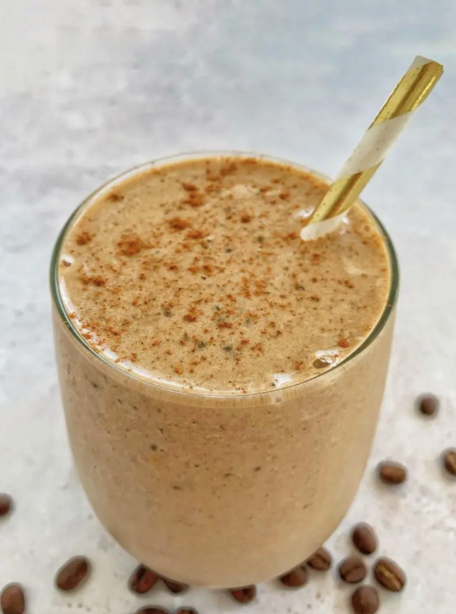 This easy coffee protein shake makes for a great, refreshing breakfast and energy booster on a hot summer day.
5. Sparkling Berry Lemonade
While this lemonade is not as cold as other recipes included in this list, the mixture of berries, sparkling water and tart lemonade make for a super refreshing drink to cool down on a hot day. You can also mix it up with ice cubes to turn this lemonade into a frozen treat!
Frozen treats
6. Oreo Blueberry No-Churn Ice Cream
Don't have an ice cream maker? No problem! This simple no-churn ice cream recipe is delicious and easy, but the best part about it is that you can scoop it right out of the freezer instead of having to let it thaw enough to scoop.
7. Blueberry Ginger Lime Sorbet via registered dietitian nutritionist Marisa Moore
#photo3
This simple sorbet recipe is bursting with flavor and made with really easy-to-find ingredients — maybe even ingredients you already have on hand!
8. Frozen Sweet Potato Cookie Dough Bites via registered dietitian Sarah Schlichter
These frozen sweet potato cookie dough bites are a great refreshing snack for the whole family and, bonus, they have chocolate chips in them! These are a must-try.
9. Paloma Popsicles via registered dietitian nutritionist Karman Meyer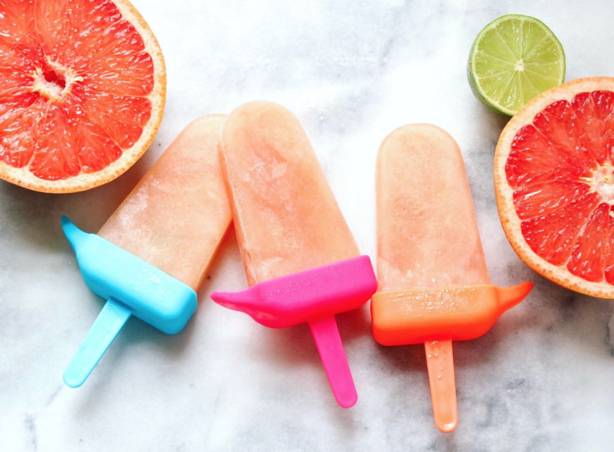 The fresh grapefruit and lime juice turn up the refreshing value of this adult popsicle. There's something about tart foods that feel extra cooling, especially if you love a cocktail popsicle in the summertime.
10. Melt-In-Your-Mouth Coconut Watermelon Ice Cream via registered dietitian Shahzadi Devje
If you've got extra watermelon on hand, blend it with coconut milk, strawberries, dates and top it with chopped pistachios. You're sure to cool down with this delicious recipe.
11. Creamy Mango Popsicles via registered dietitian Megan Byrd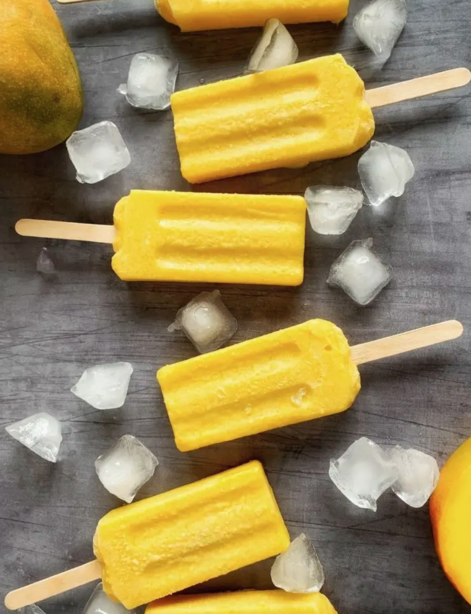 Coconut milk and fresh mangoes are the base of these refreshing and sweet popsicles. This would be a great recipe to make with young children to enjoy on a hot summer day.
12. No-Churn Grasshopper Ice Cream via registered dietitian Colleen Christensen
This no-churn ice cream recipe takes just 10 minutes and six ingredients to prepare. Need I say more?
13. Frozen Banana Split Pops via registered dietitian nutritionist Emily Cooper
Frozen bananas coated in chocolate is always a great idea. Registered dietitian Emily Cooper adds pineapple, strawberries and walnuts to these tasty and refreshing pops.
14. Strawberry Lemon Popsicles via registered dietitian Shannon A. Garcia
This recipe is just like strawberry lemonade but in popsicle form. Registered dietitian Shannon A. Garcia recommends adding your favorite liquor to make it into an adult cocktail popsicle.
15. Rhubarb Sorbet via registered dietitian Judy Barbe
Make this easy sorbet with fresh rhubarb. Since it doesn't have any dairy or eggs in it, it's perfect for anyone with allergies or dietary restrictions.
16. Red, White and Blue Popsicles via registered dietitian Mary Ellen Phipps
Fruit, coconut cream and coconut water are all the ingredients you'll need to make these delicious popsicles to cool down.
I hope you enjoy these cool treats and can use them to keep yourself and your loved ones happy and cooler this summer.
---
---
Editor's Note: Anything in this article is for informational purposes only. The content is not intended, nor should it be interpreted, to be a substitute for professional medical advice, diagnosis, or treatment. Always seek the advice of your physician or other qualified health provider with any questions you may have regarding a medical condition; Any opinions, statements, services, offers, or other information or content expressed or made available are those of the respective author(s) or distributor(s) and not of KSL. KSL does not endorse nor is it responsible for the accuracy or reliability of any opinion, information, or statement made in this article. KSL expressly disclaims all liability in respect to actions taken or not taken based on the content of this article.
×
Photos
Related Stories
More stories you may be interested in