Italy's most famous cake, tiramisu (literally meaning "pick me up") was named for its energising layers of marsala-soaked sponge, creamy mascarpone, and coffee. Today though, we'd argue that most of us know it as the perfect ending to an all-out Italian feast. Either way, we'd never say no to a good one.
Now, we've scoured the highs and lows of Sydney's many tiramisu squares to bring you some of the very tastiest of god's holy treat from the heavens. Some have been given a cultural twist, some hold true to secret family recipes passed down for generations, and others, well, others have been given the gift of song. 
Read on to find out where to find the best tiramisu in Sydney.
Cucina Porto
Pyrmont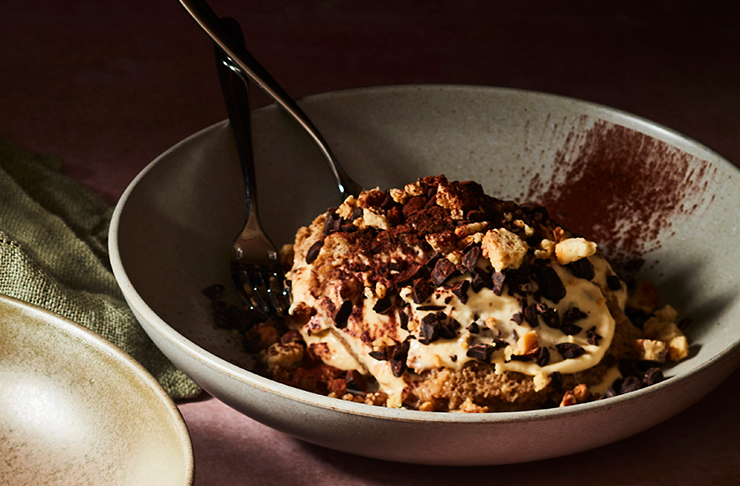 With a swanky fit-out and prime pre-theatre dining position opposite the Sydney Lyric Theatre (hello, Hamilton), Cucina Porto is a relatively new player on the Sydney dining scene. On the a la carte menu there's a mussel and prawn linguine, fettuccine with slow-cooked octopus, and stone-baked bread that practically melts in your mouth. But when it comes to dessert—the tiramisu made with coffee, Kahlua, and silky mascarpone cream is a real standout.
"We mix a bit of Kahula and serve it up quite rustic, [like a big quenelle] on the plate," says executive chef Martino Pulito. "We also use our own homemade cantucci, which we chop up and mix together with dark chocolate to sit on top. It gives it a slightly different texture than your more traditional tiramisu."
Pulito soaks his savoiardi biscuits (the Italian Ladyfinger biscuits used to create a light coffee bathed sponge) for 10 seconds in espresso and Kahlua. "We then make the complete tiramisu straight away at room temperature, dropping the biscuits in and layering cream, biscuits, cream. Then we put to rest for 24-hours before serving. Resting it allows the tiramisu to set and stay together." Delicious. 
Glorietta
North Sydney
Glorietta is both an epic place for post-work drinks when the clock hits five, and a top weekend spot when you're in the mood for endless glasses of wine. Alongside its drinking antics, Glorietta also plates up a killer tiramisu. 
 
"Our tiramisu is a combination of premium quality ingredients—savoiardi biscuits, high-quality mascarpone, Glory Days Coffee, Kahlua, and free-range eggs," says head chef Alberto Facci. "We make a mix of freshly brewed but cooled coffee and Kahlua, soak the savoiardi and layer the bottom of a medium-size tray. We then whip the egg whites with sugar, whip the yolks, combine the mascarpone and eggs, and then stop whipping but with a soft tip spatula gently fold the mix together." For Facci, ultimately it's the ratio of cream-to-biscuit that counts: "The ratio should be 65% cream, 35% biscuit." Precision! 
Hello Auntie
Marrickville, Darling Square
For those of you brave enough to step outside the box and try tiramisu with a twist, your tastebuds will get the ride of their lives when they hit the tiramisu at new-school Vietnamese restaurant Hello Auntie. 
Dubbed the "Banh Ca Phe", Cuong Nguyen, owner and head chef of Hello Auntie is known for his innovative take on traditional desserts (namely the dessert hot dog) and he has very recently put his own spin on the beloved tiramisu. Made with layers of Vietnamese ice coffee jelly, mocha brownie pieces, honeycomb and malt cream—this guy is the only way to finish off your feasting here.
Aperitivo
Leichhardt
If you haven't been to Aperitivo in Sydney's OG Little Italy, well, you haven't truly lived. This restaurant churns out pizza and pasta better than the Motherland (so put your passports away, because you won't be needing them anytime soon). Beneath a glowing, green neon sign, Aperitivo is a no-frills joint decked out with exposed brick walls and an Italian feature flag constructed out of red, white and green bottles. If that tells you anything it should be that they do not mess around with a good tiramisu recipe.
"It's made the way my nonna used to make it," says owner Giuseppe Zagari. "With Tiramisu there is no need to fancy it up and turn it into a fine dining delicacy. Made with good mascarpone, free-range eggs, and locally roasted coffee—the taste speaks for itself. 
 
While the crew at Aperitivo stick close to Zagari's family recipe, the secret to their silky tiramisu also lies in covering it with cling wrap and refrigerating it for as long as possible. They also dust the cake off with cocoa powder or grated high-quality dark chocolate.
Caruso's Italian Restaurant
Gymea
Red gingham table cloths, tiled floors and vintage chandeliers—it doesn't take a genius to know that this is your one-way ticket to carb-loading central. Caruso's Italian Restaurant has been a god-tier institution in The Shire for over 20 years and it's been helmed by the man, the myth, the legend,  Rocco (or Rocky) Pitarelli.
"Our tiramisu is made traditionally to a point—then instead of boring mascarpone we create an Italian zabaione, which is a mixture of egg yolks and sugar that's whipped over heat until fluffy with a touch of coffee liquor, and mixed with freshly whipped cream," says Pitarelli.
The sponge is baked in-house from a recipe handed down for generations. The real stickler though is that at Caruso's, when tiramisu is being made, Patrizio Buanna must be playing loudly and proudly in the background for "added passion". It's a non-negotiable in the tiramisu-making process and once you taste this bad boy, you'll understand why.
Pizza Madre
Glebe
Simplicity is where it's at for Pizza Madre, whose seven-strong pizza menu heroes veggies like never before. The hole-in-the-wall 35-seater spot is a local favourite on Victoria Road, which is unsurprising considering it was dreamt up by the same brains behind another local fave: Two Chaps. Alongside a meat-free menu and a drinks list that champions local brewers, Pizza Madre also plates up one of the best tiramisus in Sydney. The recipe goes back a few decades and has never been disclosed—but we do know it features a very secret coffee liqueur. 
CicciaBella
Bondi
Inspired by the dreamy southern coast of Italy, the CicciaBella menu lets you eat as you wish—whether that means share-style, or going in hard on the flavour-packed antipasti menu, or a select of woodfired snacks. The team here also offers up an unholy T-cake inspired by thrifty cooks of Italy's past.
"This is something that we pride ourselves on at Cicciabella; cooking authentic Italian food that transports you back to cucina povera—the poor kitchen, where the frugal genius Italian cooks made the most of the gardens, forests, and oceans," says head chef Andrea Biviano.
To make their tiramisu, Biviano says there are four absolute musts, which include traditional savoiardi biscuits imported from Italy, a light and silky smooth zabaglione, a good quality mascarpone, and real coffee. While he says, for the most part, the rest is up for interpretation, there's a pretty nifty trick he uses to make CicciaBella's tiramisu one of the best in Sydney.
"The most important part of the tiramisu is the zabaglione and how long you soak the biscuits in the coffee," he adds. "Not long enough and you won't get the coffee flavour and the little pick-me-up that tiramisu is famous for—but too long and you will have a soggy tiramisu that is not enjoyable to eat."
D.O.C
Surry Hills
At D.O.C, mozzarella gets shipped directly, while the house Prosecco is made in Northern Italy. So yeah, these guys are pretty serious about authentic Italian flavours. Here, the tiramisu is made with sweet goat's cheese and traditional savoiardi and montenegro.
"I think what makes our tiramisu so special is the fact that the recipe hasn't been changed over the last 14 years," says D.O.C's Andrea Colosimo. "To make our tiramisu you'll need the usual ingredients but what makes ours different is a hint of fresh goat cheese blended with the mascarpone."
Icebergs Dining Room And Bar
Bondi Beach
Bearing unbeatable views of Australia's most iconic beach and a delicious maze of long lunch feasting, romantic dinners, and boozy brunches, Icebergs is one of the sparkling jewels in Sydney's hospitality crown. Here, the whole menu is hard to fault—including Iceberg's now-iconic tiramisu. Made up of marsala zabaione, coffee nougatine, and vanilla sponge, this tiramisu is baked the old way with hours of whisking over steam, making it lighter and less rich than traditional mascarpone mousses.
 
"We use Messina 100% Australian chocolate for a sauce and a coating for milk coffee gelato," says head chef Alex Prichard. "The Messina chocolate is made from cocoa grown in the Daintree Rainforest, which is then conched and tempered in Rosebery."
Franco Pizza Bar
Thirroul
It may not be in the heart of Sydney, but the tiramisu here is so good, we had to throw out an honourable mention to Thirroul's newest pizza joint, Franco Pizza Bar. As the brainchild of chef Matt Taylor (Wine Library, Monopole, Bentley, Tetsuya's), chef Sam Jones (Wine Library), and chef Johannah Talor (Glass, Flying Fish), Franco Pizza Bar plates up twists on iconic Italian feasts, while championing local produce and wines from the South Coast.
On the sweet side of things, the team here plates up a bomboloni ice cream sandwich made with a brioche doughnut, vanilla gelato, and Campari—but for those addicted to all things tiramisu (like us), there's a tasty morsel with your name on it. Featuring mascarpone cream, espresso, and dark chocolate shavings, this cake is a cut above the rest for its 10/10 creaminess.
Now, for something savoury, check out where to find Sydney's best sausage rolls. 
Image credit: CicciaBella, Cucino Porto, Glorietta, Hello Auntie, Caruso's Italian Restaurant, Pizza Madre, Pizza Madre, CicciaBella, D.O.C, Franco Pizza Bar