Staked out with benches and chairs for customers, Taylor Wallace got to work Friday morning listening to Elton John, while his pup, Arrow, lay asleep in the front of the truck.
Wallace, 29, runs a coffee bar out of the back of his 1985 Ford Bronco named Partner Coffee, which he parks around Bozeman.
He opened his pop-up shop in March and later noticed the name, an intentional nod to his Texas roots, was inspired by his dad — Bryan Wallace — a bronco-riding cowboy. He died in October.
"He'd say, 'are you my partner?' I had the idea for Partner Coffee and as I reflected more I realized that's probably where I got that idea," Wallace said. "A lot of this is really inspired by him."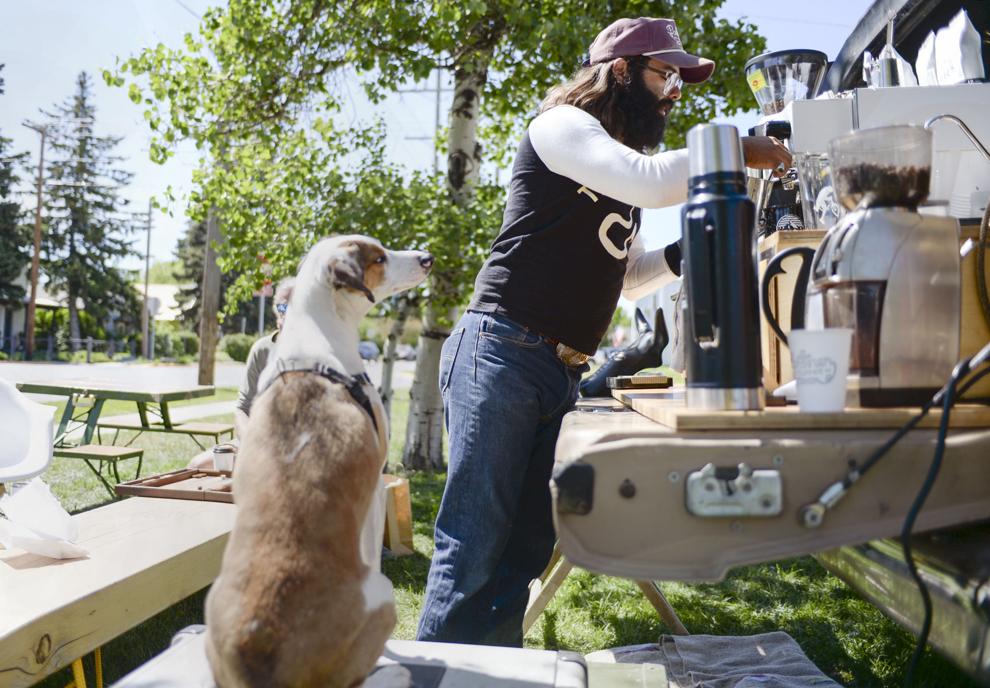 He works Tuesday, Wednesday, Friday and Saturday from 8 a.m. to 3 p.m. Often he'll park his "B.R.O.N.C.O." truck (Big Rig of Nice Coffee Outside), in front of Alter Cycles and Sklar Bikes. He posts his daily location online.
Wallace, originally from Houston, Texas, has had a long-standing passion for coffee. He's worked as a barista for years and helped manage several coffee shops in Texas.
He moved to Bozeman about two years ago, for a job in communications, and in December decided he was ready to get back to making joe.
"I really missed being in coffee and I missed being a part of the community," Wallace said.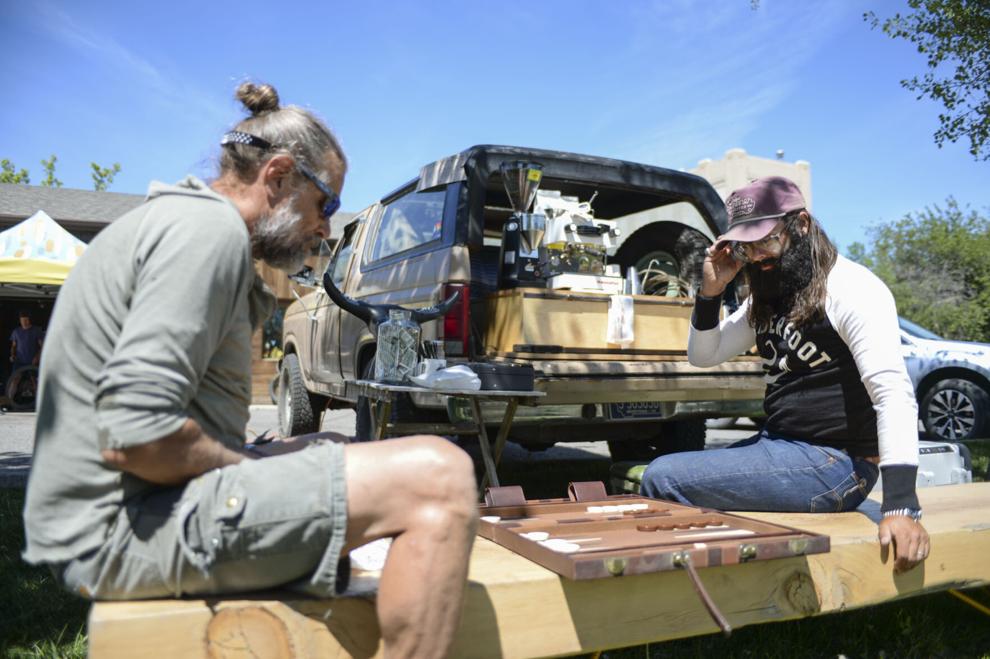 In February, he started retro-fitting an espresso bar in his truck. By March, he hit the streets.
His set up is simple: the wooden bar pulls out of the back of the Bronco with an espresso machine, coffee grinder and a pour-over dripper.
He has running water — large tanks of water run from the front of the truck to a small facet and sink built into the bar — and coolers with creamers, milks, and his own homemade syrups. He uses Flat Track's roast for his brews.
When he's done for the day, he pushes the bar inside his truck and loads up his coolers.
Getting going was tough at first, he said. Being an outdoor rig means his hours are often dependent on the mood of mother nature. Still, his idea was met with a measure of support he didn't expect.
"I was kind of overwhelmed," Wallace said. "I had budgeted out how many cups I'd need to sell per day. My first week of being propped up and I was already doubling that."
Wallace wants to convey a cowboy friendliness with his truck, something the transplant from Texas has appreciated in Montana. He thinks that's part of his initial success.
"I want to maintain approachability above anything else," he said Friday.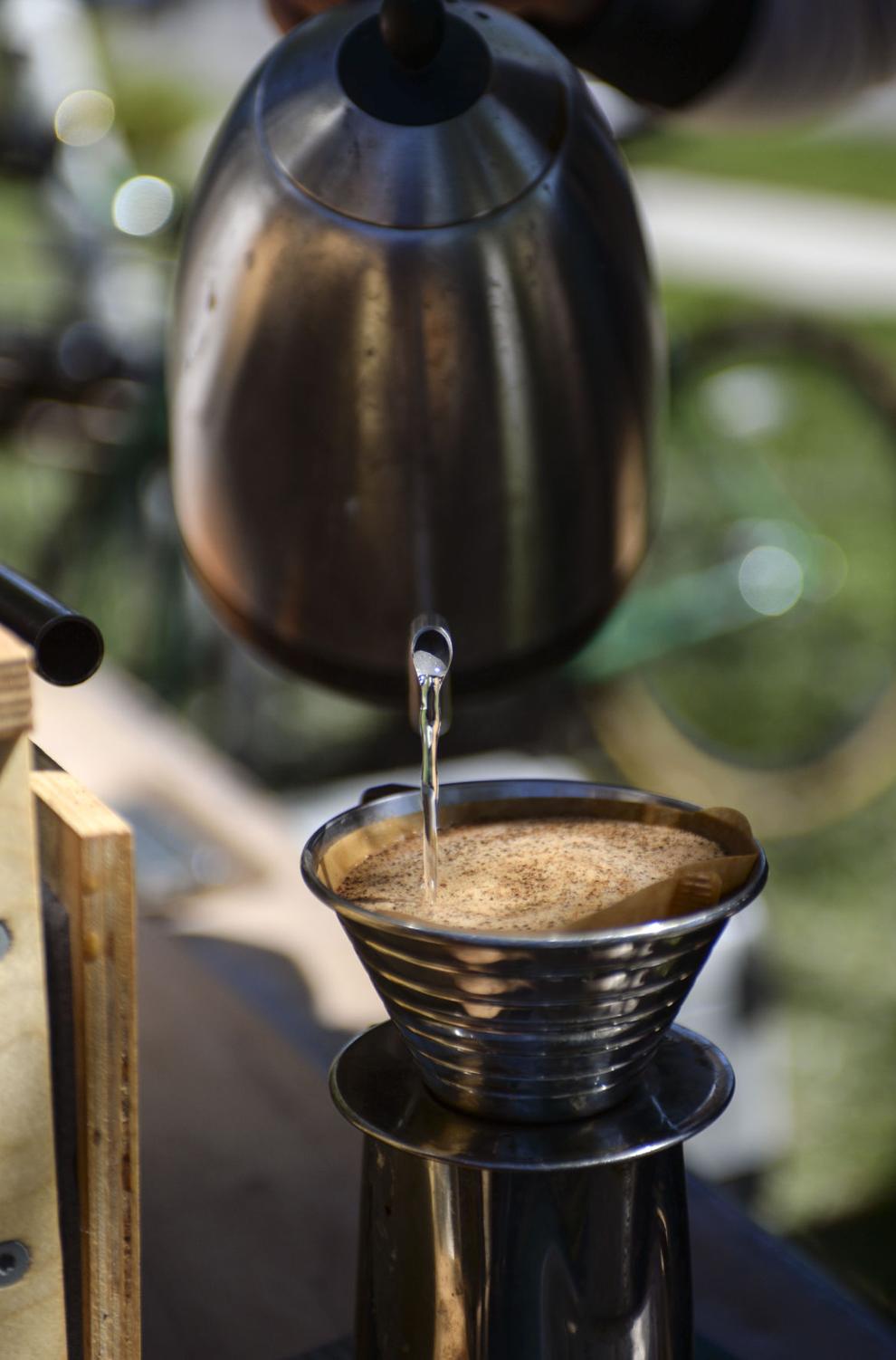 Curious onlookers who stopped to ask a question or get a cup of coffee have now turned into a set of regulars who come almost daily to hang out.
"I'm probably not his favorite regular," joked Mike Williams on Friday. Williams has been coming to Partner Coffee for about two months now and lives just a few blocks away from the Bon-Ton Flour Mill building. "I haven't had a bad cup of coffee yet."
Wallace is working toward opening a storefront in downtown Bozeman. His goal is to have a brick-and-mortar shop by the time the weather turns, aiming for November or late fall.
He thinks his regulars will follow him to a storefront, and he'll continue to take the truck out in the summers, he said.
"I'd like to keep my (coffee shop) small," he said. "I really like the idea of riding my bike to the shop every day."