among the soft hills of brianza in italy, FLEXFORM finds another home. an architecturally distinctive private residence, on the shores of lake alserio in como, is entirely furnished by the brand's customizable collections. through the pinpoint selection of products, the house's expressive geometry and sleek style is further embellished in contemporary comfort and luxury. with the lavishing light that penetrates the large sliding windows and spandrels, FLEXFORM's furniture create an interplay throughout the spellbinding spaces.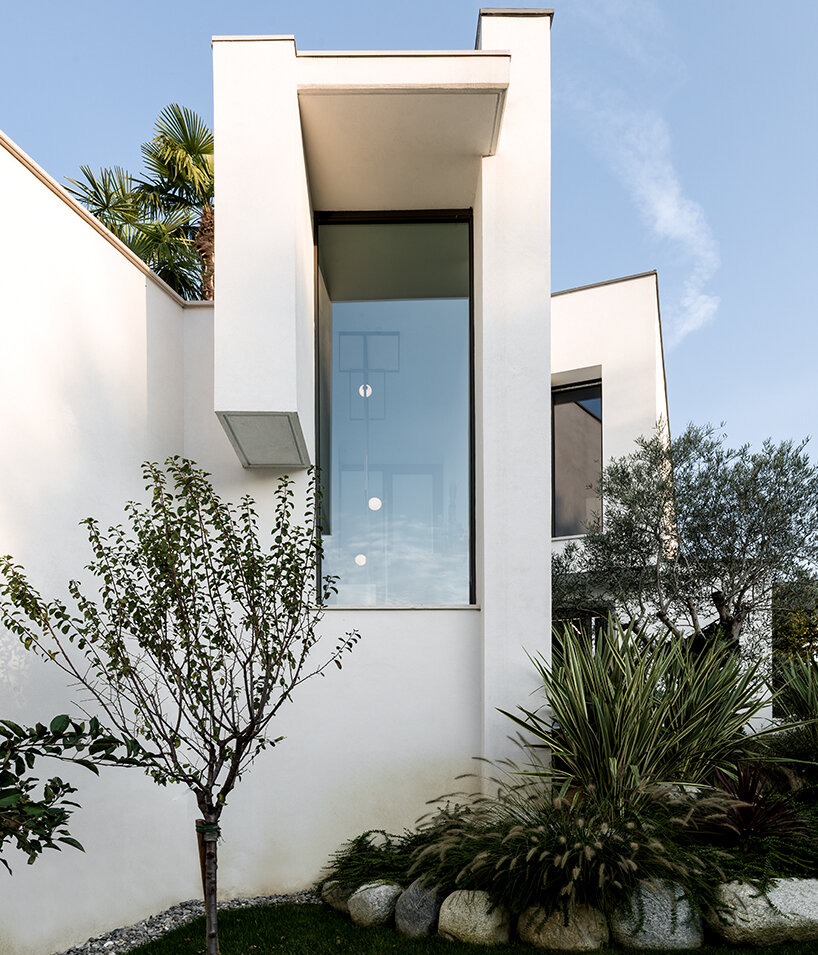 villa aghe, alserio lake, italy
all images courtesy of FLEXFORM
designed by italian architect annalisa mauri, villa aghe pays respect to the rich landscape and morphology of the site. with alserio lake on one side and the mountains on the other, the house is developed as if unfolding from the ground's crevices. whilst numerous views are framed through the generous openings, two swimming pools reflect and further stimulate the architecture. together with FLEXFORM's indoor and outdoor collections, a seamless continuity is envisioned throughout the como residence.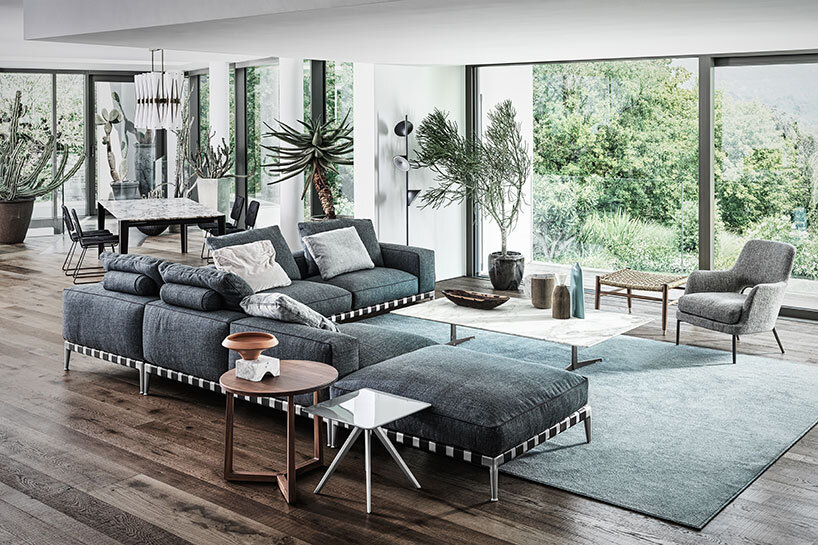 the living room displays a sectional gregory sofa paired with fly coffee table and zefiro and jiff side tables.
with picturesque views to the outdoors, the downstairs living room interconnects with the surroundings. the double-height space features antonio citterio's stand-alone, green gregory sofa near the dramatic fireplace. as if emerged from plants, the sofa's austere metal base and backrest cushions promise an ergonomic and enjoyable read. with a different arrangement and shade, another gregory sofa decorates the soaring living room upstairs. for a perfect balance between design and classicism, the intriguing aesthetic of the joyce armchairs by FLEXFORM are selected. their distinctive metallic skeleton and soft color palette, elevate citterio's fly coffee table and the delicate tessa ottoman.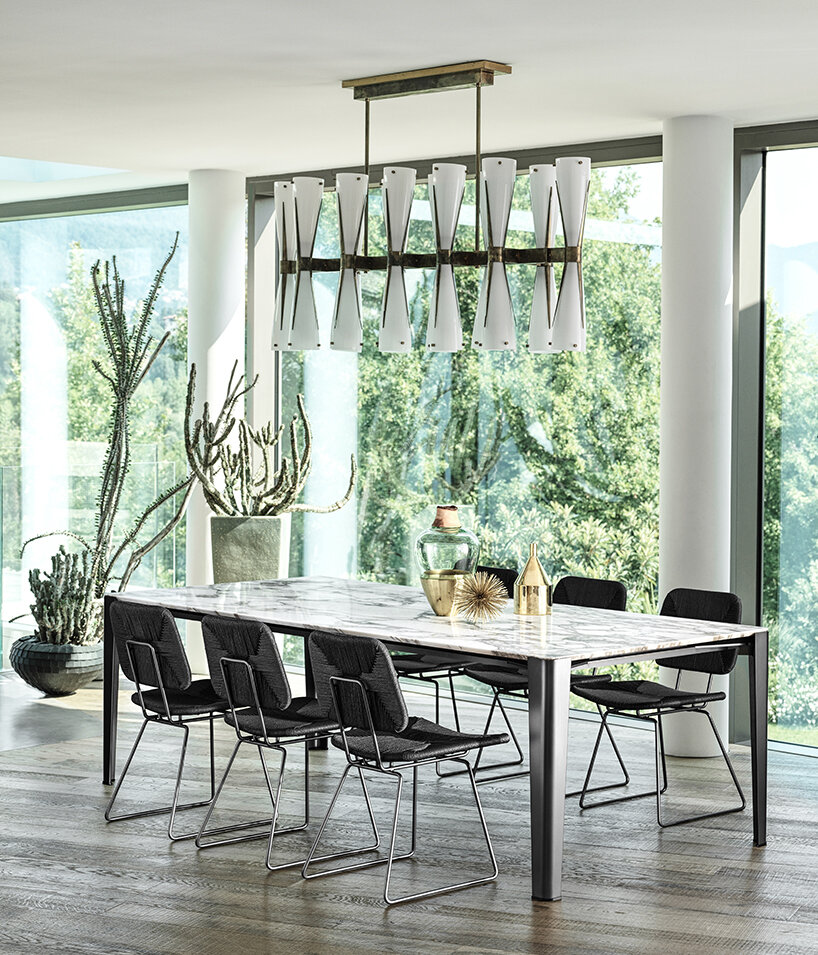 iseo dining table surrounded by echoes dining chairs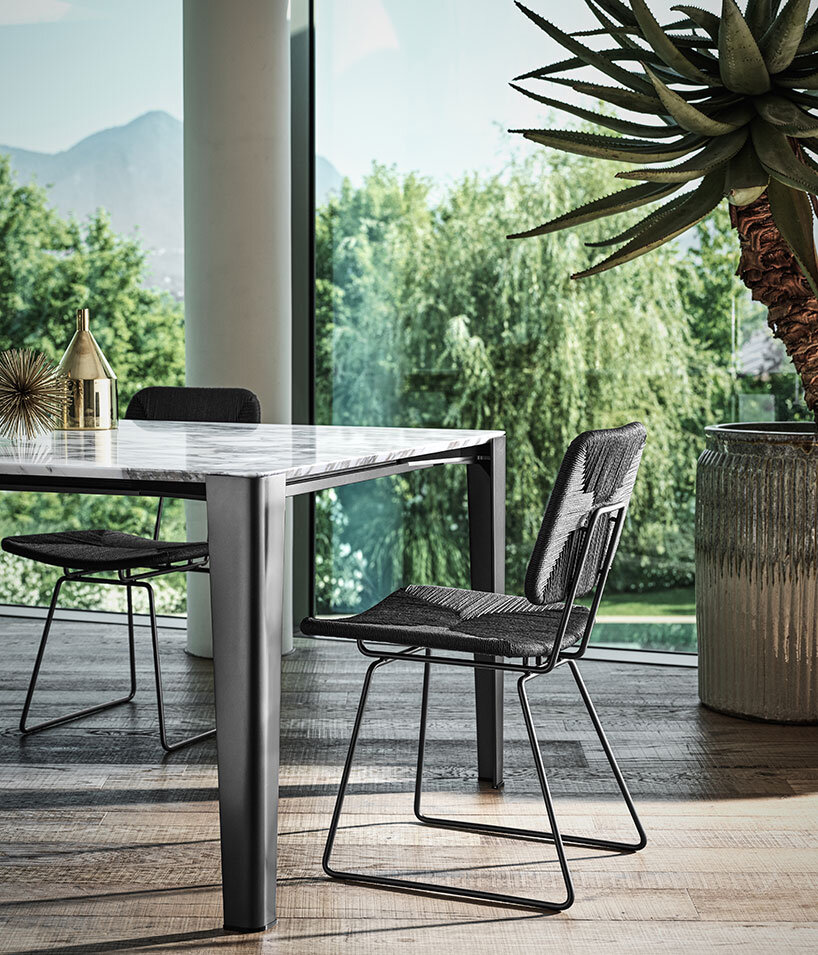 as the architectural composition unravels, a large iseo dining table by carlo colombo adds a charming splash to the adjacent area. looking out to como's green vastness, the table's textural juxtaposition between metal and marble creates even more lightness. with the simplicity of the tapered legs and beveled edges, purity and balance complete the tranquil atmosphere enriched by the plants. comfort is elevated with the surrounding echoes dining chairs by christophe pillet. with a design language that transits between the mediterranean and scandinavian culture, the chairs offer a more rustic yet timeless look.  their sleek metal structure and complex yet hand performed craftsmanship conclude the upstairs segment.

joyce armchair and any day occasional tables