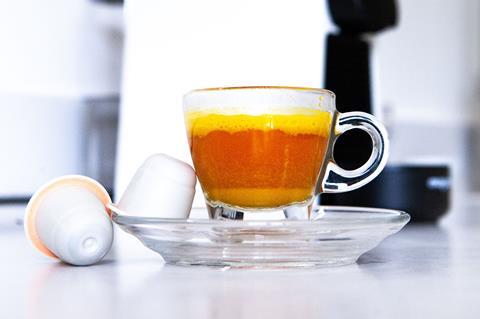 Plant-based drinks brand Rejuvenation Water is seeking funding to launch a range of compostable 'health pods' compatible with Nespresso coffee machines.
The business, founded by Kris Ingham in 2016, is aiming to raise a minimum of £5,000 on the Indiegogo platform.
Designed to be consumed hot, in an espresso-sized shot, the three-strong range of health pods will initially be focused on three areas of health: immune system, gut and energy release.
All three flavours – turmeric & beetroot, matcha and ginger & lemon – are made from natural, plant-based ingredients and are enriched with prebiotic plant fibre, amino acids and vitamins.
The capsules are made from plant-based biomass and are fully compostable.
If the crowdfunding campaign is successful, the first products could be available in retailers as early as this winter.
Ingham said: "With more coffee being consumed in the home due to coronavirus, home coffee machines have never been so popular, but for too long pod innovation has been seriously lacking and has always been constrained to coffee.
"So, after two years in development, at a time when looking after one's health has never been more important, we want to unleash our plant-based health pods onto the market. With help from the crowd through our Indiegogo campaign we can make this happen and completely shake up the category."
The Indiegogo campaign launched on 23 September and will be live for 30 days. The funding, and any overfunding, is expected to help secure the first production run of pods later this year and support the expansion of the range during 2021.
Rejuvenation Water has sold more than one million units of its original health drinks since launching and has listings with Tesco, Sainsbury's, Morrisons, Waitrose and Ocado.